Apple's new iPhone may douse iPod sales
Who will buy an iPod when they can get a snazzy touch-screen phone with comparable musical functions for the same price? Apple is about to find out.
By
MarketWatch
Apple seems to have developed the Midas touch over the last few years, but one could wonder if the company's latest move will kill the goose that laid the golden egg.
Apple (AAPL, news, msgs) delivered some mixed messages to investors this week when it introduced a 3G version of the iPhone at a price that will surely make customers swoon -- and may end up eating into its cash cow iPod business.
The company said the new 3G iPhone will go on sale July 11 for $199 for an 8-gigabyte version. That's half the price of its comparable device that runs on a much slower network with fewer features.
That will no doubt goose sales at the cash register when the iPhone goes on sale in July, selling at a discount to some other devices in the smart-phone space. It will also probably help Apple make its goal of selling 10 million units of the device by the end of this year -- a goal that some on Wall Street had begun to doubt as sales of the device seemed to stall.
"At $199, you are getting into mainstream consumer pricing," said Tim Bajarin, president of Creative Strategies. "There is no question they will blow past their 10 million number this year."
Some Wall Street analysts this week were upping their estimates for iPhone unit sales.
However, the new price also puts the iPhone at the same level as some of Apple's iPods. The 8-gigabyte version of the iPhone will sell for the same price as an iPod nano with the same amount of memory
Even given the additional recurring costs associated with the iPhone in the forms of calling and data plans, one has to wonder how many customers would want to buy an iPod when they can get the same functions plus a snazzy touch-screen phone for the same amount. Cash-strapped consumers may go for one device and not both.
A threat to the iPod business would be no small matter for Apple, which has ridden the iconic digital music player to a dramatic turnaround nearly unprecedented in corporate history.

| The iPhone log | |
| --- | --- |
| The iPhone's share of the U.S.smart-phone market | 20% |
| BlackBerry's share of the U.S. smart-phone market | 42% |
| Number of iPhones sold this year | 1.7 million |
| Price of 8-gigabyte iPhone when it was launched last June | $599 |
| Price of new 8-GB iPhone when it goes on sale July 11 | $199 |
| Price of 16-GB iPhone that goes on sale July 11 | $299 |
| Number of countries where iPhone is now sold | 6 |
| Number of countries where iPhone will be sold by year's end | 70 |
The iPod business accounted for 24% of Apple's revenue in the company's most recent quarter, though there is some evidence that the business is starting to plateau. IPod sales in the most recent period were only up 1% in unit growth.
Besides being a strong business in its own right, the iPod is also credited with creating a "halo effect," drawing consumers into Apple's growing number of retail stores. Once inside the store, many have decided to buy Macintosh computers or notebooks. The financial highlight of Apple's fiscal second quarter was the sale of 2.29 million Macintosh computers, a 51% increase from the previous year.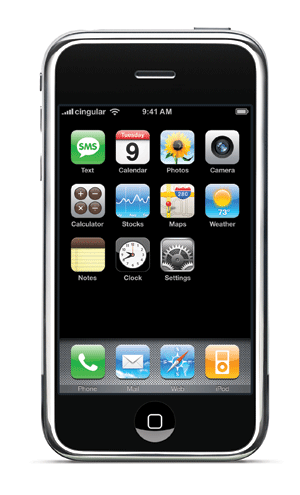 It is not clear yet how much of a halo effect the iPhone has had on Mac sales, but the fact that the iPhone is also available at AT&T (T, news, msgs) retail locations may dampen some of its ability to boost sales of other Apple products.
Apple Chief Executive Steve Jobs noted that Apple sold 6 million first-generation iPhones since the Web-enabled device's commercial launch last summer.
Apple's news about the new iPhone seems to have caused at least some concern among investors. Its shares fell more than 5% as Jobs was showing off new models of the iPhone and about a dozen new applications for the device at the Apple Worldwide Developers Conference on Monday, though the shares regained some ground by the close.
Given the stock's 40% run-up over the last three months, the action may have been a "sell on the news" move by investors, thought there also may have been reaction to news that carrier partner AT&T will no longer share recurring revenue from iPhone users with Apple.
That may be Apple's saving grace, as it will likely collect more in revenue from iPhone sales than the $199 price tag would dictate, thanks to that subsidy. But consumers will still face an interesting choice of picking between products priced in a similar range, with very different features, at a time when gas prices continue to climb.
Based on the resounding glee among the Mac faithful and others this week, the new iPhone could be a big hit among consumers and corporate users alike. But time will tell whether Jobs & Co. have made the right move.
This article was reported and written by Therese Poletti for MarketWatch.